Trail User Policies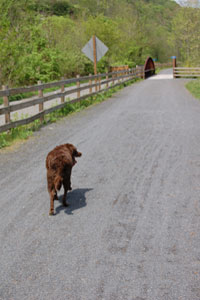 In order to promote a healthy, enjoyable environment, Rails to Trails of Central Pennsylvania offers the following Trail User Policies. Please observe these policies when spending time on the trails.


Lower Trail Bulletin Board Policy
Posting messages is permitted for Lower Trail information, general public notices, and business notices.

Lower Trail information has first preference.

Bulletin Boards will be maintained by a member of Rails to Trails of Central PA.

Plexiglas side will remain locked to curb vandalism.

Information can be posted on the plywood side as desired by anyone.
Information for posting on the Plexiglas side can be given to a Rails to Trails Board member or sent to:

RAILS TO TRAILS OF CENTRAL PA
P.O. BOX 592
HOLLIDAYSBURG, PA 16648

Download/View Document

Personal Property on the Lower Trail
Rails to Trails of Central Pennsylvania maintains recreational trails that are open to all members of the public. In order to maintain a safe, natural and beautiful environment and because our trails are for public use, no personal property is permitted to be posted, installed, or displayed on the trail without approval from the RTTCPA Board of Directors. This includes signage, decorations, structures, and vegetation. Approval for variance of this policy must be requested in writing to the RTTCPA Board of Directors.

January 15, 2008
Accepted March 11, 2008
Download/View Document

Dog Walking Policy
Dogs are welcome on the Lower Trail, but must be kept on leashes no more than six feet long and under control at all times.

Download/View Document

Pavilion Reservation Policy
Pavilions on the Trail cannot be reserved. They are available on a first come, first served basis at no cost for use.

Adopted June 10, 2014.
Download/View Document

Nondiscrimination and Equal Opportunity Policy
The purpose of this declaration is to affirm Rails-To-Trails of Central Pennsylvania's commitment to the principles of Equal Employment Opportunity (EEO) and to communicate the Organization's commitment to those principles through this Nondiscrimination Policy Statement.

For more information, please download the full document, below:
Download/View Full Document


Harassment Free Work Environment Policy
The purpose of this policy statement is to establish and affirm Rails-To-Trails of Central Pennsylvania policy of prohibiting sexual harassment in the workplace.

For more information, please download the full document, below:
Download/View Full Document